Our Ski Club's Annual Season Kick-Off Potluck Dinner is on Saturday November 9, 2019, starting at 5:30PM at the Lake Mont Pines Lodge. The lodge is located at 3211 Lakemont Drive in Arnold (see map below).
Please RSVP to our Ski Club Social Chair, Casey,
no later than November 3rd so that we know how many to plan for.
But if your plans change, walk-ins are always welcome!
Contact Casey at social@bearvalleyskiclub.com.
Please bring a favorite casserole, salad, or side dish to share. Also, bring your own drink of choice. The Ski Club will provide water, coffee, plates, cups, and utensils.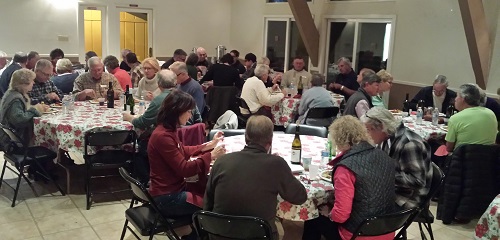 Our Ski Club President will give a brief update on upcoming Ski Club events. Carole will fill us in with more details for our Annual Ski Trip in February. Our new Ski Club members will be introduced — we're glad you joined our club!
For our new members and not-so-new members, this is a great event to meet other members, get your questions answered, and enjoy some great food! So come and get acquainted! Or if you're not a member and are just interested in more information about our Ski Club, come to the potluck and find out!
Don't forget that your 2019-2020 membership dues are now overdue!!! Renew your dues before December 1, 2019 to avoid a late fee (returning members only). We'll be taking renewals (and new signups, of course) at the potluck.