Welcome to the Bear Valley Ski Club!

Our Ski Club is based at Bear Valley Mountain Resort located in the scenic Central Sierra Mountains in California. The Ski Club was formed in 1966 by the developers of the Bear Valley/Mt. Reba Ski Area, and is a downhill, snowboard, and cross-country ski club with year round activities for members and their families.
Proposed By-laws as Amended 11/1/2019

You are encouraged to review our Club's updated bylaws.
At the Season Kick-off Potluck Dinner on November 9th,
we will vote for approval of this revision
if we have a quorum in place.
You must be a member in good standing and over the age of 18 to cast your vote.

Updated bylaws…
Annual Season Kick-Off Weekend

Happy Hour
Friday November 8th at 5:30pm
Sequoia Woods Country Club in the Lounge
No host bar and bar food available for purchase

Potluck Dinner
Saturday November 9th at 5:30pm
Lake Mont Pines Lodge in Arnold
Details and map…

All are welcome!
Come join us and learn about our Ski Club!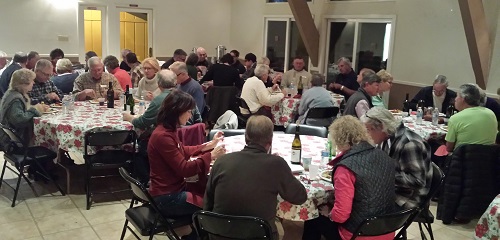 Bear Valley Snowsports Foundation
Annual Ski Swap
Saturday November 30th
10am – 3pm
More info…
The Bear Valley Ski Club and the Bear Valley SnowSports Foundation (BVSF) are working together to promote our respective activities that benefit the Bear Valley ski community.
For the second year, our Ski Club is donating our club membership fee to the Foundation of any new Foundation member that joins our Ski Club up to a maximum of $500.
BVSF provides our Ski Club members with discounted NASTAR season passes.

More info on NASTAR passes...

Come and join us! We're more than just a Ski Club!