Welcome to the Bear Valley Ski Club!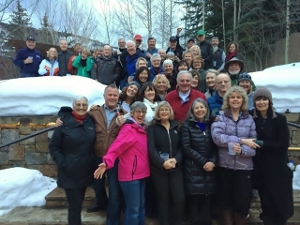 Our Ski Club is based at Bear Valley Mountain Resort located in the scenic Central Sierra Mountains in California. The Ski Club was formed in 1966 by the developers of the Bear Valley/Mt. Reba Ski Area, and is a downhill, snowboard, and cross-country ski club with year round activities for members and their families.
Check out our Annual Ski Trip in February 2018 to Italy!
***Construction Begins at Bear Valley***
In mid August construction began 0n the new, 6-pack lift replacing the original Bear Valley double chair.
Shown on the right is one of the many concrete forms assembled in the parking lot and transported via truck to the mountain top for placement. These will form the base for the new chair lift towers.
Below is another form ready for transport.  By the time you are reading this several of these will have been placed, concrete poured and the curing process underway.
The crew preparing the excavated area for form placement.  This job will become more difficult as the tower locations approach the cliffs.  The use of helicopters may become necessary for form and concrete transport.  Fun to watch.
The bottom right photo shows the former location of the washrooms at the top of the mountain.  This area will become the new unload platform allowing easy access to the runs serviced by the Polar express lift.
A recent photo by Barbara Harris shows the helicopter placing concrete in the tower bases on the cliff area.  Wonderful to watch the highly skilled pilots during the operation.
For frequent 6-pack chairlift updates visit: http://www.bearvalley.com/lovesixlift/


***Stay tuned for frequent updates provided by the Bear Valley Ski Club**
WE'RE MORE THAN JUST A SKI CLUB!