The Bear Valley Ski Club plans a club ski trip each winter season. Historically, we plan a domestic ski trip one year, then a trip to Europe the following year. Although Covid 19 travel restrictions have limited our travel during the pandemic, you can see the locations the BVSC has traveled at the bottom of this page.
This upcoming winter (in 2024) the Club President Mark Woltering is putting in some hard work planning a ski trip to Breckenridge Colorado. This trip is going to be fantastic. All the members of the BVSC want to thank Mark for his work planning out the details for this fun trip. For details on this upcoming trip please click this link below:
Annual Ski Trip 2024 – Breckenridge Colorado Announcement
RECOGNITION AND THANK YOU CAROLE In addition to thanking our President Mark Woltering for planning this years ski trip, the membership and the Board of the BVSC would like to recognize and thank Carole Brown for her many years organizing the BVSC trips across the United States and Europe. If you have ever attended one of our ski trips, you will know that she did a fantastic job! Thank you so much Carole! We hope too see you on another trip soon with members of the BVSC!
You must be a member of the Bear Valley Ski Club before you can sign up for our Annual Ski Trip. All travelers must complete and sign a BVSC waiver form also! It's not expensive – sign up now and join us!
See our Membership page for more information.
Our Ski Trips are booked through Snow Tours, Inc.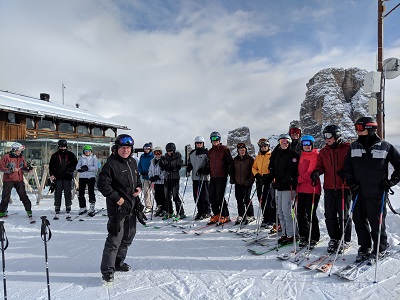 Here is a list of our past trips. Click on the link to see travel details:
2023 – Cortina d'Ampezzo, Italy, Venice and Sicily
2020 – St. Moritz, Switzerland, Canary Islands & Lisbon, Portugal
2019 – Sun Valley, Idaho
2018 – Cortina d'Ampezzo, Italy, and Venice, Malta and Rome
2017 – Aspen, CO
2016 – Mayrhoffen, Austria, & Prague, Vienna & Budapest
2015 – Steamboat Springs, CO
2014 – Val Gardena, Italy & Barcelona & Madrid
2013 – Mammoth Mountain, CA
2012 – Lake Louise and Banff, Canada
2011 – Cortina d'Ampezzo, Italy, and Tuscany
2010 – Salt Lake City Resorts
2009 – Courmayeur, Italy, and Amalfi Coast and Rome
2008 – Steamboat Springs, CO
2007 – Kitzbuhel, Austria, and Sicily, Italy
2006 – Breckenridge, CO
2005 – Zermatt, Switzerland, and Budapest and Prague
2004 – Aspen, CO
2003 – Chamonix, France, and Paris
2002 – Banff and Lake Louise, Canada
2001 – Cortina d'Ampezzo, Italy