Our Annual Ski Trip for 2020-2021 is on hold due to the concerns related to the COVID-19 pandemic. Please read the following information submitted by our wonderful travel coordinator, Carole Brown (July 16th, 2020).
Hi Fellow Skiers, With the uncertainty facing all of us with our world wide pandemic, I am not yet committing to a BVSC ski trip for 2021. I have discussed this with the travel agency I have used for the last 25 years, and our board of directors. Snow Tours is happy to work with me on coming up with something later in the year, if we feel it is safe to travel. By keeping our trip somewhat local we can eliminate the problem of committing to flights, which have to be reserved well in advance because of the number of participants we get for these trips. So it most likely will be a road trip. I have received so many emails concerning our trip next year and I want to assure you that I am happy to plan one and have some great ideas brewing already. We just have to wait and see whether it is safe to travel or not when the time comes. Please check for news on our website. And hopefully we will be off to a wonderful ski season and another wonderful ski trip in 2021.
Keep safe and check the website for any ski club news.
Carole
You must be a member of the Bear Valley Ski Club before you can sign up for our Annual Ski Trip.
It's not expensive – sign up now and join us!
See our Membership page for more information.
Our Ski Trips are booked through Snow Tours, Inc.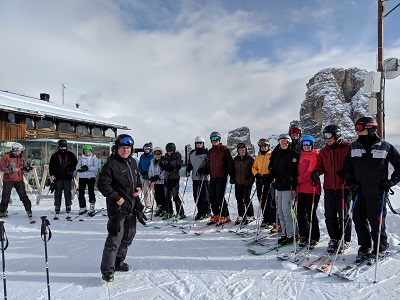 Here are our most recent trips:
2020 – St. Moritz, Switzerland, Canary Islands & Lisbon, Portugal
2019 – Sun Valley, Idaho
2018 – Cortina d'Ampezzo, Italy, and Venice, Malta and Rome
2017 – Aspen, CO
2016 – Mayrhoffen, Austria, & Prague, Vienna & Budapest
2015 – Steamboat Springs, CO
2014 – Val Gardena, Italy & Barcelona & Madrid
2013 – Mammoth Mountain, CA
2012 – Lake Louise and Banff, Canada
2011 – Cortina d'Ampezzo, Italy, and Tuscany
2010 – Salt Lake City Resorts
2009 – Courmayeur, Italy, and Amalfi Coast and Rome
2008 – Steamboat Springs, CO
2007 – Kitzbuhel, Austria, and Sicily, Italy
2006 – Breckenridge, CO
2005 – Zermatt, Switzerland, and Budapest and Prague
2004 – Aspen, CO
2003 – Chamonix, France, and Paris
2002 – Banff and Lake Louise, Canada
2001 – Cortina d'Ampezzo, Italy