The Bear Valley Ski Club usually alternates between Europe and North America on our annual ski trips. The North American ski trips are one week in length. The European ski trips are two weeks, with the first week at a ski resort and an optional extension traveling and sightseeing.
You must be a member of the Bear Valley Ski Club before you can sign up for our Annual Ski Trip.
It's not expensive – sign up now and join us!
See our Membership page for more information.
Our Ski Trips are booked through Snow Tours, Inc.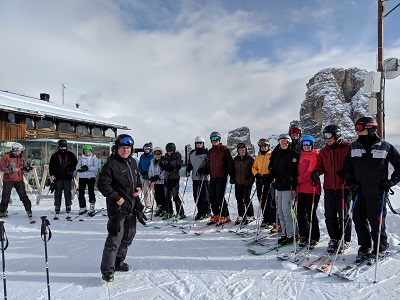 Here are our most recent trips:
2020 – St. Moritz, Switzerland, Canary Islands & Lisbon, Portugal
2019 – Sun Valley, Idaho
2018 – Cortina d'Ampezzo, Italy, and Venice, Malta and Rome
2017 – Aspen, CO
2016 – Mayrhoffen, Austria, & Prague, Vienna & Budapest
2015 – Steamboat Springs, CO
2014 – Val Gardena, Italy & Barcelona & Madrid
2013 – Mammoth Mountain, CA
2012 – Lake Louise and Banff, Canada
2011 – Cortina d'Ampezzo, Italy, and Tuscany
2010 – Salt Lake City Resorts
2009 – Courmayeur, Italy, and Amalfi Coast and Rome
2008 – Steamboat Springs, CO
2007 – Kitzbuhel, Austria, and Sicily, Italy
2006 – Breckenridge, CO
2005 – Zermatt, Switzerland, and Budapest and Prague
2004 – Aspen, CO
2003 – Chamonix, France, and Paris
2002 – Banff and Lake Louise, Canada
2001 – Cortina d'Ampezzo, Italy