Our Ski Club's Annual Winter Dinner Dance is scheduled for
January 21, 2018. More info later…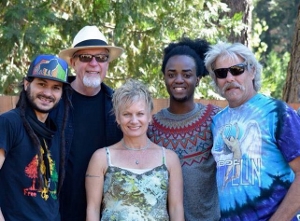 Because of this season's special circumstances — Bear Valley Mountain Resort is open through April 23rd and our January event was cancelled due to extreme storm conditions — our Ski Club has rescheduled our Annual Dinner Dance for Sunday April 23, 2017!
This fun event will be held at Snowflake Lodge in Arnold (see map below). It starts at 5:30pm with appetizers and dinner starts at 6:30pm. Dinner choices are Beef Fillet, Salmon, and Falafels over Beluga Lentils. Cost is $60 per person.
Bring your own beverage of choice as this year NO wine will be provided.
After dinner, the band band Jill and the Giants will keep the dance floor hopping! They're awesome! We're excited to have them back again this year.
Print and send your completed reservation form along with your check payable to the Bear Valley Ski Club. All information is on the reservation form.
Our Ski Club's Annual Betty Ann Prescott Award  will be announced and presented by Ethel Meyer.
Special thanks to our Social Chairperson Casey Valverde for organizing this event — for the second time this season!