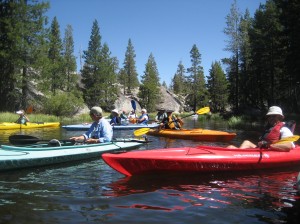 In addition to the Annual Events, Ski Club members are encouraged to organize activities with other Ski Club members throughout the year. Activities may include kayaking, hiking, tennis, fishing, biking, snowshoeing, wine tasting, and any other activity that you're interested in! The membership form allows members to list activities of interest. The activities list and membership roster are emailed to all paid-in-full members, so use the activities list and organize a get-together! Here are some activities organized by our members.
---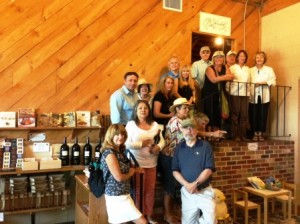 In May 2013, fifteen Club members and friends enjoyed a wine tasting tour of the beautiful Shenandoah Valley in Amador County. On the morning's trip to the wine region, we sipped mimosas and munched on homemade snacks. We visited four wineries — Sabon Estates, Montevina/Terra d'Oro, Shendandoah Vineyards, and Deaver.   At the Montevina winery, we enjoyed our picnic lunches overlooking the vineyard. Beautiful weather, wonderful wines, and great friends (new and old) — all made for a memorable trip!  Many thanks to Chris for organizing this event!
---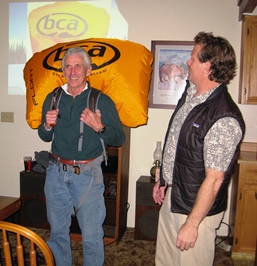 Aaron Johnson of MAS (Mountain Adventure Seminars) presented his Avalanche Awareness lecture to our Ski Club. We began the evening with appetizers followed by Aaron's presentation. This eduational multimedia presentation provided an overview of the awesome phenomenon of avalanches. We gained a basic understanding of the formation and release of avalanches and ways to avoid them. Aaron also demonstrated the equipment skiers wear and carry when skiing in avalanche zones. All of the attendees said it was a fascinating presentation. And most attendees decided it was safer to stay in bounds! Many thanks to Aaron for an informative and interesting presentation!
---
Movie night at a member's cabin in Arnold! We watched the 35-minute video Yosemite's Badger Pass, 1941-1942, a compilation of a Fresno family's ski adventures at Badger Pass in the early days of skiing in this country. Our attendees made comments like "I remember those bindings" and we chuckled at the skiing techniques, clothing styles, and the new "upski" that presaged the chairlift. Plus, we enjoyed potluck appetizers and lots of discussion about snow conditions! We all had a fun evening!
---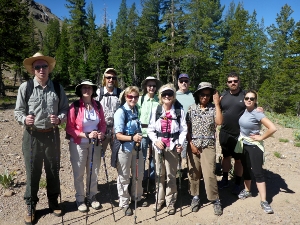 On the Fourth of July weekend in 2014, two of our members organized a hike to Noble Lake on the Pacific Crest Trail.  It was a beautiful hike with wildflowers in bloom.
---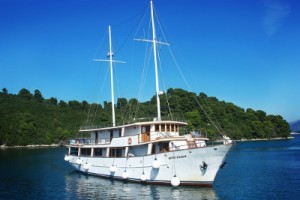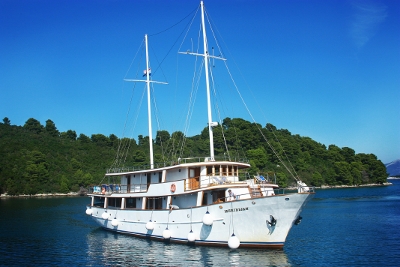 A summer trip for our Ski Club! Our ski trip organizer, Carole, organized a week long cruise along the Dalmatian coastline and islands in Croatia in September 2016! Plus, there was an optional three night extension in Dubrovnik, Croatia.  It was a relaxing and fun time with swimming, snorkeling and sightseeing by our cruisers.
---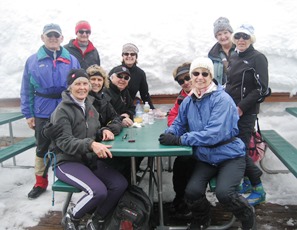 These events were all organized by our Ski Club members!  Now, does this give you some ideas for a fun Club event that you can organize? Let us know how we can help at info@bearvalleyskiclub.com!