Our Ski Club's 2013 multi-generational Family Fun Race Day was held on Saturday, March 9. Although we had beautiful sunny skies, our race was delayed by wind holds on the lifts. Our racers patiently chatted in the sun room or took a few runs while waiting for the race to start. The race finally started at 1:30pm.
This year we had a total of 39 racers! Congratulations to all participants and to all families! Congratulations to the Wilkins family who had the most family members participating, with the Trefry family running a close second.
Racers and non-racers enjoyed a pasta dinner buffet at Sequoia Woods Country Club in Blue Lake Springs. After dinner, the awards were presented and it was a great evening. Great food, great fun, and great time with friends and family!
See photos below.
[div style='border: 2px solid #ff0000;padding:6px; text-align: center']Thanks to Don and his many volunteers for another successful race, including Brad, Bert, Pat, Chuck, Ric, Vicki and Barry. Special thanks to Casey for another great dinner.
[div style='text-align: center']Also, thanks to the Bear Valley Snowsports Education Foundation for the timing and course setup.[/div]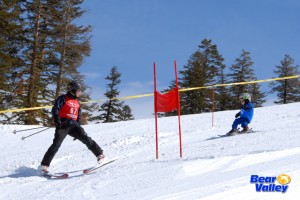 Mark from West World Images was available to photograph the racers as in previous years, but unfortunately this year was not able to wait until the wind hold was lifted.
Click on the photos below for larger images!