The Ski Club's annual ski trip in 2011 was to picturesque Cortina d'Ampezzo in the Dolomite Alps in northeastern Italy. Cortina is one of the most famous and elite resort towns in the world. We stayed at the charming four star Hotel Ancora in the center of Cortina and walking distance from the lifts. Our stay included delicious breakfasts and superb dinners from their award-winning chef!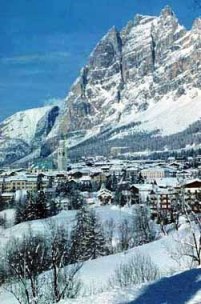 The skiers enjoyed skiing in the beautiful Dolomite mountains with multiple ski areas to choose from. Beautiful sunny weather made for a great ski week!
For the optional second week, we stayed in the medieval center of Siena in Tuscany south of Florence. In Siena, we enjoyed sightseeing, churches, museums, shopping, and the delicious Sienese cuisine.
The tour included several day trips with tour guides. One day we toured the nearby Tuscan hill towns of Monticino, Montalpucino, and Pienza. Another day we enjoyed the beauty and architecture of Florence including a visit to the Uffizi. One day we toured the walled city of Lucca and visited the main sights in Pisa including the famous leaning tower.

It was a fabulous trip!