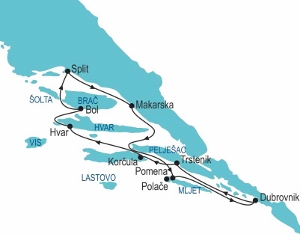 A summer trip for our Ski Club!  Our ski trip organizer, Carole, is organizing a week long cruise along the Dalmatian coastline and islands in Croatia in September 2016!  Plus, an optional three night extension in Dubrovnik, Croatia, is being planned!
For this trip, all you will need is a few T-shirts and a swimming suit (or two!) to spend seven unforgettable days sailing on the southern Adriatic Sea from one island to another. Relax and let the captain and his crew (especially the cook) take care of you. During the day you can swim, snorkel, sunbathe, and explore the underworld of the Adriatic Sea. The evenings you have free to find a good restaurant or discover old churches or other historical monuments.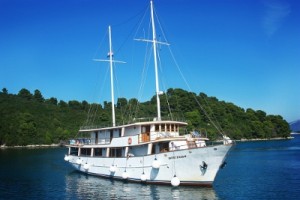 The cruise is September 17 – 24, 2016, on the Katarina Cruise Line.  You arrive in Split, Croatia, on September 16th, and spend one night at the four star Cornaro Hotel in old town Split.
The next day, we board the cruise ship at the Split pier and begin our island hopping cruise!  It is too early to confirm the ship name in the Katarina Line, but it will be similar to the A+ category MS Meridijan. Depending on the ship, the A+ category ships typically have a maximum of only 36 – 38 passengers, with ten upper deck cabins and eight lower deck cabins. The five star rated ship does have air conditioning!
See: details about the cruise itinerary.
PRICING
For the cruise only, the price per person, double occupancy, will be about $1133 per person for an upper deck cabin and approximately $902 for a lower deck cabin.
The optional three night extension in Dubrovnik will be about $600 per person, double occupancy.
The round-trip airfare is estimated to be about $1600 per person.
SPACE IS LIMITED!
The cruise price includes:
One night (Sept 16) at the Cornaro Hotel and transfer from the hotel to the cruise ship (Sept 17)
Seven nights charter with crew
Fuel for maximum 4 / 5 hours of sailing per day
Seven half boards (buffet breakfast and 3 course lunch)
One Captain's dinner
One liter water per person per day
Fully equipped cabins (A/C, safe deposit box, linens, hair dryer, etc.)
Free Wi-Fi
Air-conditioned upper deck dining room with bar area and LCD TV
Lounging sundeck with deck-bed for all passengers
Daily cabin cleaning; bed linens and towels changed midweek
The optional three night extension in Dubrovnik following the cruise may include:
Transfer from Split to Dubrovnik
Three nights with breakfast in a four star hotel
One full day guided coach excursion to Montenegro
One full day guided coach excursion to Mostar
One free day in Dubrovnik
Airport transfer to APT Dubrovnik
See additional details about the Dubrovnik extension!
PLEASE NOTE: You must be a member of our Ski Club to go on this trip!
Our trip is booked through Snow Tours.
Travel insurance is available from Snow Tours at
www.snowtour.com
.