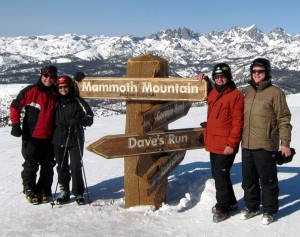 Our Club's Annual Ski Trip for 2013 was to Mammoth Mountain in the eastern Sierras of southern California. Many folks in our traveling caravan met in Carson City, NV, on Saturday night before driving down to Mammoth on Sunday Feb 3. Our tour in Mammoth included a four day lift pass and five nights lodging at the Juniper Springs Lodge in comfortable two bedroom condos (four people per condo). The Juniper Springs Lodge is Mammoth's premier ski-in, ski-out all-condominium hotel.
See trip photos below.
After our arrival on Sunday, we cheered on our favorite team at our Super Bowl party in the TV room at the hotel. Lots of good munchies, pizza, and a football pool were enjoyed by all. Only thing better would have been if the 49ers had won!
Our skiers enjoyed four great days of sunshine and great snow conditions. Two days were a little bit windy, but that's Mammoth.
Non-skiers enjoyed the town of Mammoth with it's free shuttle bus from the hotel. There was snowshoeing and shopping and lots of great restaurants.
The last evening in Mammoth was an appetizer party in the hotel's community room. Great food, fun and laughter, followed by a competitive game of charades.
"Carole, thank you for organizing such a fun trip! It was a blast and I'm so glad that I joined the Ski Club so I could go on trips like this!" ~Chris
"It was a terrific trip! And we certainly do have a great group of fellow skiers and good-sport, non-skiing fellow travelers." ~Jane
"Now that we are home, it's time to reflect on the great time at Mammoth Ski Resort. Enjoyed the long and wide runs which were well groomed. It doesn't get any better than that. We are a very special group and very lucky to belong to the Bear Valley Ski Club. All very good skiers and a great mixture of people. And don't get in the way of those ladies — wow — they are good skiers. Was lots of fun having the whole gang together." ~Paul
Extra BIG thanks to Carole for arranging this great ski trip! And thanks to the many helpers who organized the parties and various get togethers.
As always, we had lots of great skiing and fun times!
Click on the photos below! And look at all of those happy faces!